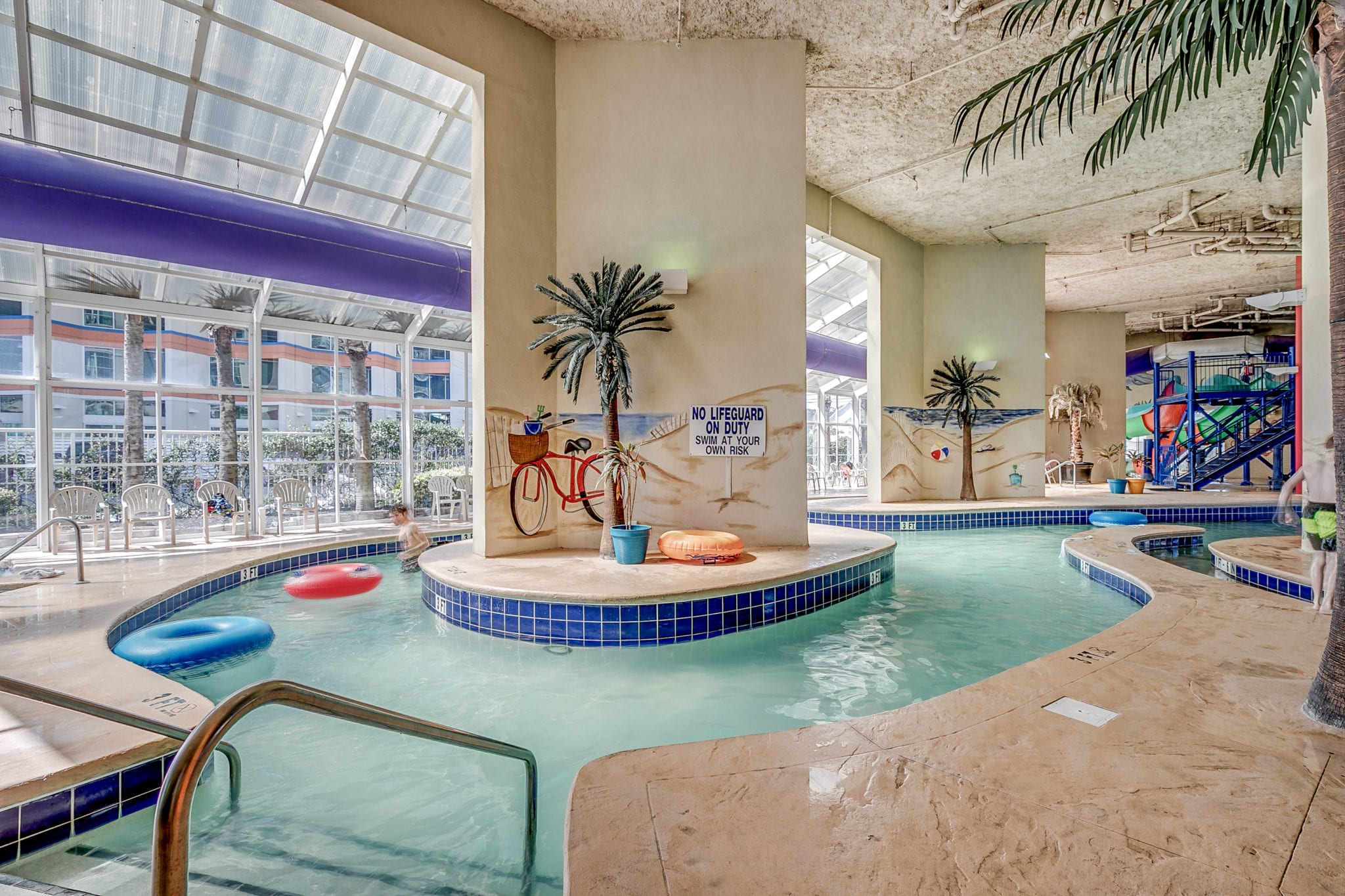 Indoor Water Park
We are the home of Myrtle Beach's largest and best Indoor Waterpark! Enjoy all 30,000 square feet of fun without leaving the resort–no additional fees to play at our water park, it's included with your stay! With so much to do, you won't know where to start, so let us make it easier and give you the lay of the park.
Our indoor waterpark features multiple water slides for the kids and adults to slide down. Slide down our pink winding waterslide and feel the adrenaline rush as you twist and turn down the slide. We also have a super fun humpy bumpy waterslide to try too!
If you're really looking to entertain the kids or cool down head over to the Kids Zone! Your kids will love splashing around in the shallow pool while elephants spit water at them from their trunks. You didn't read that wrong, there are the cutest little elephant fountains in the Kid's Zone. The colorful pipes are a hit to run through as they shower your kids with water like a larger-than-life sprinkler. Another classic feature of our indoor waterpark and a favorite for toddlers and babies is our waterfall mushroom!
If the kids really want to get soaked have them stand under one of the big waterfall buckets. They'll fill to the brim but when they're too full watch out they'll come pouring down! There's also a fun water-spouting submarine that the kids can explore inside and pretend they're having a great underwater adventure!
You and the kids can also layback and relax in the indoor lazy river that winds around our indoor water park. Or maybe you just need some "adult time" while the kids play on all the other great water features. Either way, grab one of the single or double tubes provided at our resort, hop on in, and float worry-free.
There are also multiple pools for families to enjoy splashing around, cooling off, or playing Marco-Polo in. Don't feel like swimming while the kids play? There are chairs around the outside of our park for you to sit and watch while your kids have a great time playing in the water.